In what must have been a happy moment on the eve of a miserable midterm election, President Obama called San Francisco Giants manager Bruce Bochy to congratulate him on the team's improbable World Series victory.
The conversation was no doubt short and perfunctory, but the sports-minded president would have done well for himself to ask the Giants skipper for some advice. Not long ago, Bochy was at an all-time low in San Francisco polls, as fans consistently flooded talk radio and blogs with calls for his huge head (hat size: 10).
Now that he's won the Series and seemed to imbue his every move with a Midas touch, Bochy's massive melon is seen as a sign of genius, which should give hope to the Obamanistas that the prez can get his mojo back as well. The Giants' championship offers up a few other story lines that ought to play well in the White House: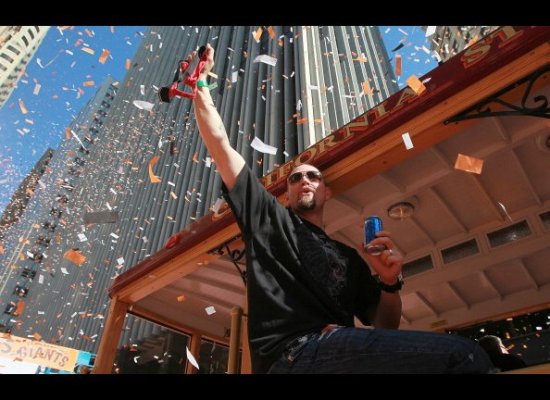 Change Your Game Plan
Bochy barely used the same lineup two days in a row. Even in the playoffs, the Giants never had a regular starting nine, using three different players as the starting third baseman. For the last game of the World Series, Bochy started Aaron Rowand in center field for the first time in weeks. The greatest move of all: Bochy had his leading home run hitter, Aubrey Huff (pictured), bunt for the first time in his major league career in Game 5 of the World Series, and he laid down a beauty that averted a double play and set up Edgar Renteria's game-winning home run.
Go With The Hot Hand
If something was working, Bochy wasn't going to mess with it. When Cody Ross (pictured) started hitting, Bochy inserted him as the regular right fielder, and he provided most of the Giants' offense against the Braves and the Phillies. If Obama is getting traction on an issue, hit it hard.
Make Your Pitch
The Giants proved once again the old baseball axiom that good pitching beats good hitting. They rode top-flight starters, a phenomenal bullpen, and a machine-like closer in the offbeat but dominant Brian Wilson (pictured) to victory. Baseball is the only sport where the defense holds the ball, so is it too much of a stretch to think Obama needs to drop a few fastballs on the GOP?
Drop an F-bomb
This may be tough for Obama, losing his designated swearer Rahm Emanuel, but Giants ace Tim Lincecum (pictured) inspired a new line of t-shirts in San Francisco when he enthusiastically declared, "F— Yeah!" on live television.
Do It Chicago Style
The Giants hadn't won a World Series in 56 years, but this year they took cues from some other curse-busters, Juan Uribe (pictured) and Aaron Rowand, who were members of the 2005 Chicago White Sox, which won the World Series for the first time since the 1919 Black Sox scandal. Even without Emanuel, Obama will have to call on his Chicago roots to be tough when he needs to.
Embrace Diversity
The Giants this year honored their first African-American player, Monte Irvin, by retiring the Hall of Famer's number 20 — more than 50 years after he retired from baseball. Amazingly enough, the Giants don't have any African-American players, although there are plenty on the team with African heritage by way of Latin America. The Giants are a veritable United Nations, with players from Colombia, Venezuela, Puerto Rico, the Dominican Republic — and a hitting coach, Hensley "Bam Bam" Meulens, from Curacao who speaks five languages — English, Spanish, Dutch, Papiamento and Japanese.
When All Else Fails, Blame George Bush
Making the victory over the Texas Rangers even sweeter for San Franciscans was the sight of former Rangers owner George W. Bush sitting in the front row at each Texas home game, suffering along with his team. There's no love on the liberal left coast for Bush, who never even visited San Francisco during his eight years as president. And maybe there was something in Bush's stewardship of the Rangers that haunts the team yet — just as the messes of his presidency could take Obama eight years to clean up, if he gets that long.